Koala Cuddle 101:
" The most important rule in koala hugging is pretending to be a tree. But don't worry they give top koality hugs!"
If you are making the trek all the way down under to Australia there is one thing you must do – get a koala cuddle. But there are only certain places where you can have this amazing experience. Not all states in Australia allow visitors to hold a koala, in fact it's not allowed in New South Wales, Victoria, Tasmania or the Northern Territory. So we opted to visit the famous Lone Pine Koala Sanctuary in Brisbane Queensland to get up close with these unique creatures.
Lone Pine Koala Sanctuary is the oldest and largest koala sanctuary in the world. Established in 1927, Lone Pine has been a leading attraction in Brisbane for many years and continues to be a place for young and old to visit time and time again. Even I can remember visiting Lone Pine when I was a child, and I can tell you, returning as an adult I had just as much fun!
OK – I'm going to let you in on a little secret right now….
How much would you pay for the opportunity to hug a Koala? Admission prices aside….how much would you add to your travel budget in order to get a koala cuddle? $50? $100? Well at Lone Pine it is 100% FREE to hug a Koala!
Whenever you are in the mood for a koala cuddle you can head over to the holding area near the main koala exhibit and get your koala cuddle fix. BUT if you want to get evidence that you did in fact hug a koala – then you need to pay for that!
Photos start from $18 AUD and include a high resolution download, and after the Lone Pine photographer has taken your professional photo, you can then have someone take a few with your personal camera as well. SCORE!
Not only will you have evidence of your koala cuddle to make all your friends back home and all your Instagram follower jealous, but you can leave the park at the end of the day knowing that you helped fund new enclosures, research projects and eucalyptus plantations for these beautiful animals.
Lone Pine has 130 koalas on site available for a koala cuddle, but they also are home to over 100 species of other Australian animals. Here you can see wombats, Tasmanian devils, kookaburras, rainbow lorikeets (you can get involved in a mental feeding session with them, more on that later), bats, dingoes, echidnas, possums (much cuter than the American variety), owls, eagles, a variety of snakes and reptiles, cockatoos, turtles, freshwater crocodiles and more!
And not only can you see these fascinating Australian animals – but some of them you can get up close and personal with. Lone Pine has a 5-acre kangaroo reserve where you can get close with a variety of different kangaroo and wallaby species. You are welcome to pet them, feed them and even get a selfie with them, if that's your thing. If you are super lucky you'll catch a few with joey's in the pouches.
In this area there are also a few emu's walking around as well – I tend to be a little freaked out by large birds that could potentially peck you (which they can) but they were actually pretty cool and chilled out dudes.
No matter how old you are – or where you're from, getting the chance to just hang out with a field full of kangaroos is pretty freaking awesome! Just look how cute they are!!!
There are also plenty of shows thought the day to keep you thoroughly entertained. We found ourselves going from show to show to show until we realised it was almost the end of the day and it was time to finish off by feeding the rainbow lorikeets. These birds are quite often seen (and heard) around many Queensland neighbourhoods, and at Lone Pine you have the opportunity to feed them – lots and lots of them!
These birds are all entirely wild – however they now know when feed time is, and they turn up in the hundreds to get their specially prepared nectar meals. It is absolute chaos when the food comes out and you are encouraged to get involved with the feeding. But be warned! These birds are not in any way potty trained (if you can even train a bird that way) and the risk of getting shat on is quite high! But it's still loads of fun to have all these crazy birds flying around, landing on your head, and enjoying their succulent feast.
How to get to Lone Pine for your Koala Cuddles, get Koala photos and more!
Lone Pine Koala Sanctuary is located about 12 kilometres from Brisbane city. So if you have a hire car you can drive out their easily and park in their car park for the day. If you need to grab public transport to get out there, you can catch a Brisbane Transport bus, or arrive by ferry from the Queensland Cultural Centre pontoon, a journey of approximately 1½ hours. But they have very specific departure times so check which transportation suits you best before turning up on the day.
For more information about how to get to Lone Pine Koala Sanctuary follow this link: http://www.koala.net/how-to-get-here/
Important Information:
Lone Pine Koala Sanctuary Website
Opening Hours: 7 days a week
9:00am to 5:00pm
Open Anzac Day 25th April 1:30pm to 5:00pm
Get your Lone Pine Tickets

HERE
————————
Looking for more fun activities to do In Brisbane?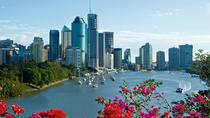 Brisbane Sightseeing Tour and Brisbane River Cruise
Discover the tropical charm of Brisbane on a three-hour tour of Queensland's capital city. Perfect for first-time visitors, this comprehensive morning tour … More info
Location: Brisbane, Australia
Duration: 3 hours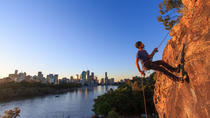 Kangaroo Point cliff face is a unique sight in the heart of Brisbane. The urban cliff offers a unique abseiling experience, allowing beginners and the … More info
Location: Brisbane, Australia
Duration: 2 hours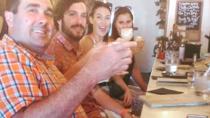 Brisbane Food Tour: A Taste of Queensland
A Taste of Queensland is the perfect introduction to some of Queensland's most renowned local produce and flavours. Indulge in a four hour journey of … More info
Location: Brisbane, Australia
Duration: 5 hours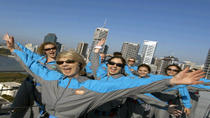 Brisbane Story Bridge Day and Night Climbs
Rise to the challenge and climb Brisbane's iconic Story Bridge! You'll enjoy 360-degree panoramic views from the summit, taking in Moreton Bay, the Glass House … More info
Location: Brisbane, Australia
Duration: 2 hours 30 minutes
Want even more adventures in Brisbane

– CLICK HERE

——————-
Need accommodation for your trip to Brisbane? Here's a few of our favourite places to snooze!
| | | |
| --- | --- | --- |
| | | |
Love this post? Why not pin it on your favourite travel Pinterest Board?
Really Love this post ❤️ Don't forget to bookmark it for later!
Disclaimer: We received our admission to Lone Pine complimentary. All opinions remain our own. This article contains affiliate links – thanks for supporting our blog by using them.