Craft Beer Gold Coast: The scene is finally getting established! Beer lovers can sidestep the ever present XXXX and Tooheys lager, that dominates most generic Aussie pubs, and enjoy a quality craft beer instead.
That said, it's still not quite as prevalent around Gold Coast bars as beer fans would like. So the best solution is to go to the source… We prepared to taste 6+ craft beers surrounded by the equipment that made them.
Craft Beer Gold Coast: Burleigh Brewing Company
The Craft Beer Gold Coast revolution has had slow growth compared to other parts of Australia. But one former microbrewery, Burleigh Brewing company, has expanded to be the premiere craft beer brewery on the gold coast.
Burleigh brewing is leading the way to bring the exciting flavour of real craft beer to the gold coast and south east-queensland.
And now, you can get a Gold Coast brewery tour behind the scenes with brewmaster Brennan. Brewery tours are held once a month, and we visited for one of the first ever after Burleigh brewing opened its doors to it's new, larger premises in March 2016.
In fact, Burleigh brewing is now the largest Australian owned brewery in Queensland. The massive XXXX brewery in Brisbane is owned by Lion – the Japanese brewing giant that produces Kirin beer. And the Carlton/Fosters brewery near the Gold Coast is now owned by SAB Miller – South African.
Apparently we've sold off the crappy lager to foreign investors and are keeping the best craft beer for ourselves. Burleigh brewing don't even export internationally, as they believe beer is better fresh. So, you are just going to have to make your way to Australia to try some of their delicious brews.
Brewer Tour
We started the tour, of course, with a beer. The "big head no carb lager" – crisp and simple all malt beer. And it really does have now carbs. It's only 88 calories per bottle, yet is a full 4.2% alcohol. How did they do it? I don't know. But it's a great excuse to switch out those diet vodka sodas and enjoy a true Aussie beer instead.
Speaking of malt, brewmaster Brennan is pretty picky about sticking to rules. No cheap shortcuts, only quality ingredients. Unlike the bulk breweries who may use syrup to cut costs, it's all malt at Burleigh Brewing.
I don't want to spoil the whole tour, but yes, there will be beer samples, 6 or more if you are lucky. There will be giant fermentation tanks, as well as their "tiny" 300 litre pilot plant. Yes, even testing new batches and concepts comes in 300 litre form – I know who's party I want to be invited to.
One great beer that made it through testing into full production is "Hasslehop". Don't hassle the hop people! He's got a ferociously tasty hop finish, and ended up being my favourite of the tour. Fruity, refreshing and not too bitter.
But you know someone who was bitter? Brennan's wife. He is pretty busy brewing after all. But she's a lot happier now he named a beer after her: "My Wife's Bitter". Fortunately, the apostrophe got moved in the name. She's not bitter, but the bitter definitely belongs to her. This is a traditional British bitter, and if you ask nicely, she might just share one with you.
After some slightly nerdy beer chat and tasting as we go, we got to take a seat in the new brewery bar/restaurant – they have live music and food trucks at the weekend. For the tour, they served up a platter of artisan breads, dips, meats and antipasto.
Perfect to combine with some more tastings – including Burleigh brewing's multi award winning "28 pale". A classic American style pale ale. This one has become so popular that you can now find it at pubs all over the coast.
So, if you can't make it to Burleigh Brewing during your trip – don't miss out on trying a local legend when you drop into the pub.
DETAILS
Visit for a drink, weekend food trucks & music, or book in for the monthly "Meet The Brewmaster" Tour:
More info
Learn about Burleigh Brewing Company's beer selection
Craft Beer Gold Coast: Other local breweries
Got time on your hands? Try a few other brews during your Gold Coast Trip.
Balter Brewing Company
Go try out this small brewer on a Friday, Saturday or Sunday afternoon. Get fruity with their "XPA". Brewer Scott Hargrave, formerly of Sunshine Coast brewery, and then Byron Bay Brewing, is now out making beer his way.
http://www.balter.com.au/about
Black Hops Brewery
You know it's going to be good when the 3 brewers all have big beards. Pop in for a beer during daytime business hours. Or even follow them on their podcast.
Learn more about their craft beer Gold Coast range.
Take a Craft Beer Tour of the Gold Coast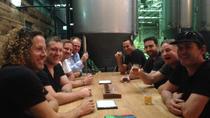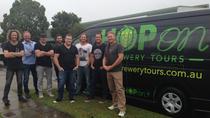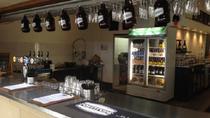 Gold Coast Accommodation Options
Taking a trip to the Gold Coast? Stay somewhere awesome!
Here's our favourite accommodation picks:
| | | |
| --- | --- | --- |
| QT Gold Coast | Q1 Resort & Spa | Peppers Soul |
If you are looking for more accommodation options on the Gold Coast, we prefer to use HotelsCombined. They have a great selection and help you get the best possible price!
Love this post? why not pin it on your favourite booze Pinterest board (we know you have one)
Really Love this post ❤️ Don't forget to bookmark it for later!
Disclaimer: We received our tour at Burleigh Brewing Co. complimentary – all opinions remain our own. This post contains affiliate links – thanks for using them to support our blog and help us buy more beer!